Horizontal Automatic Cylindrical Autoclave
Map Industries is a leading Horizontal Automatic Cylindrical Autoclave Manufacturer, Supplier, and exporter, with a wide range of autoclaves in various shapes and features to choose from. Horizontal rectangular autoclaves are available from Map Industries for use in hospitals, labs, and waste decontamination, among other purposes. Both rectangular and cylindrical autoclaves are available. Each unit is built to fulfill national and international sterilizing standards and includes features that are simple to understand and use. Our sterilizers are made of stainless steel to ensure that they will last a long time and are safe to use.
Horizontal Automatic Cylindrical Autoclave Supplier
Autoclaves were manufactured by Map Industries for hospitals, labs, and pharmaceutical companies when sterilization is necessary for big volumes. Our horizontal autoclave sterilizers are perfect for hospitals, pharmaceutical companies, biotech companies, academic institutions, research centers, and the food and beverage industry.
We've been manufacturing Horizontal Automatic Cylindrical Autoclave for a long time. We represent the most cutting-edge production technologies, backed by the most dependable customer service network on the planet at Map Industries. The steam stock, a digital temperature cum timer controller, pressure safety valves, and a radial locking mechanism with double safety are all included in our horizontal rectangular autoclaves, which are triple-walled. It's mounted on tubular platforms with a painted mild steel/stainless steel metal finish, providing the necessary operational stability.
Horizontal cylindrical and Horizontal rectangular autoclave systems are available, each of which can be further tailored to meet the specific needs of our customers. Custom design, functionalities, and automation are all included in the customization scope. These machines can also be built with a vacuum pump to allow for vacuum drying. Each horizontal autoclave unit offers great performance, dependable operation, low energy consumption, and little to no after-sales service. We provide a variety of horizontal autoclaves, both cylindrical and rectangular, with the following features: Fully automatic with touch screen, fully automatic PLC/Microprocessor-based, semi-automatic, and manual segments are also available. A horizontal/vertical sliding door mechanism, as well as a radial door locking system, are included with our horizontal rectangular autoclave.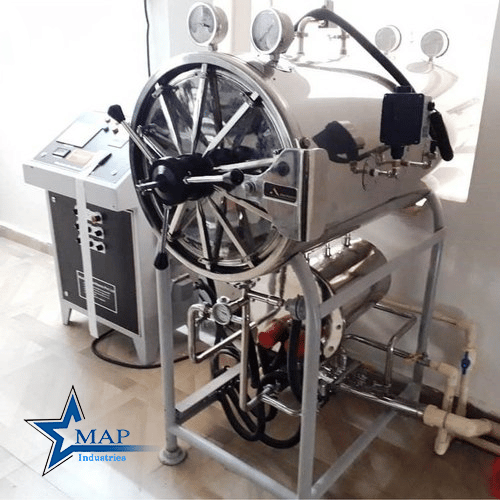 Features of Horizontal Automatic Cylindrical Autoclave
Automation using a PLC or a microprocessor.
Datasheets and graphics are available for reports.
Standard cycles of 121 C and 134 C are pre-programmed.
A user's personal Cycles can be defined here.
Pre-requisite steps have been established.
Vacuum preheating, preconditioning, sterilizing, and drying are all steps in the process.
The triple wall design guarantees that the chamber is evenly heated and dried, as well as reduces beat loss.
Touch screen HMI in-built with the electrical panel is made of high-grade stainless steel (316).
The machine has two modes of operation: automated and manual.